The task of Auditory Ace is to remember a sequence of cards as they are drawn and spoken aloud. Press the left arrow on the keyboard if the cards separated by the equal sign match. Press the right arrow if they don't.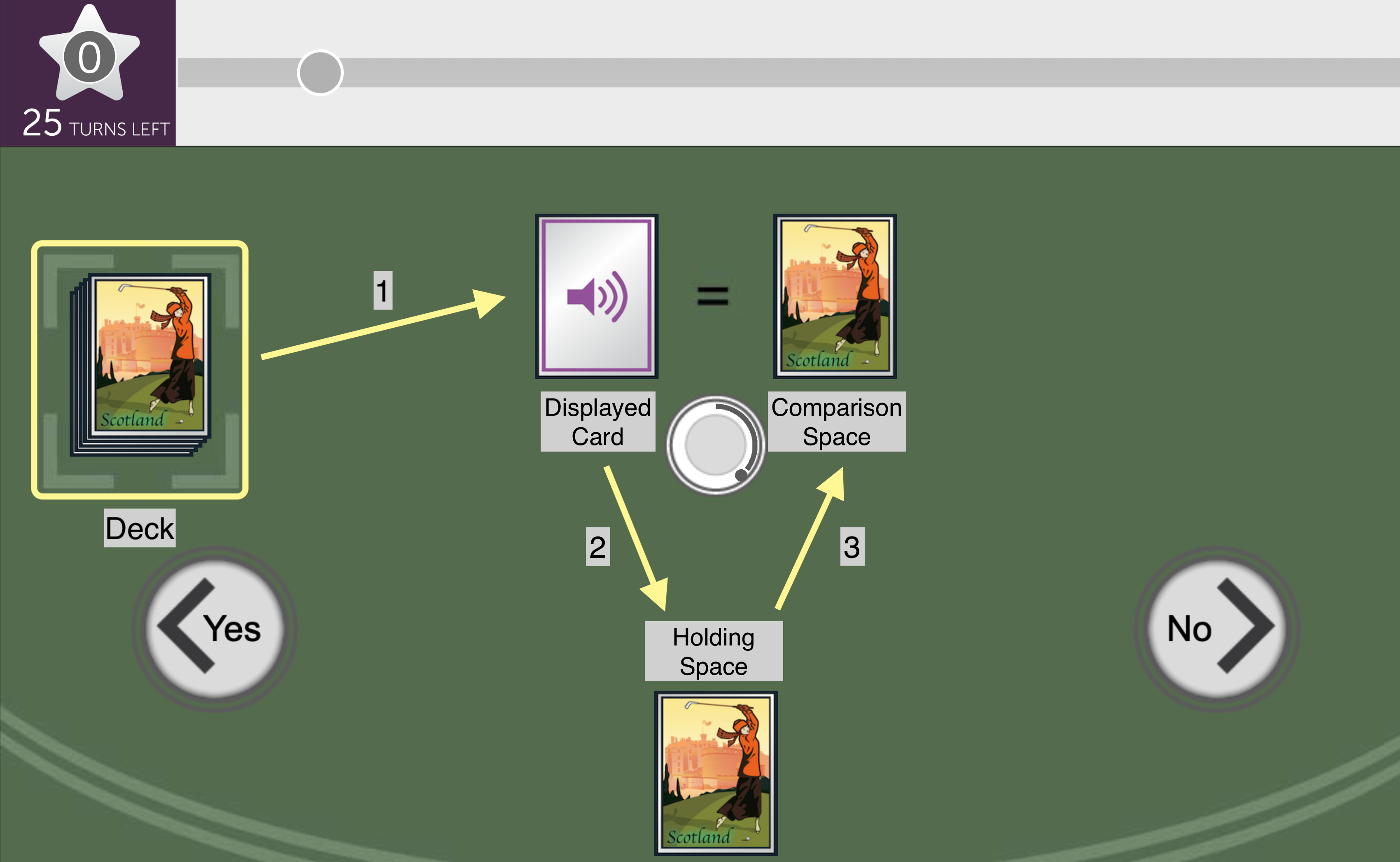 There are a few of things to be aware of in this exercise:
The Deck: There is a pile of cards on the left. This is where the cards come from. These cards are all face down, and they show the back of the cards. The back as an image, but that is just a decoration, it's not important for this exercise.
The Equal Sign: This shows you which two cards are going to be compared. It should be in the middle of the exercise window, a bit above the center line.
The Displayed Card: There is one card that is "shown" to you. It will come off the Deck and sit next to the left of the equal sign. In this exercise, you will hear a sound for that card. You are asked to remember that sound.
The Holding Spaces: These are outlines of spaces where cards can sit. They are below the equal sign. There are no holding spaces in the first level, but they show up later.
The Comparison Space: This is the card that you have to compare to the Displayed Card. It sits to the right of the equal sign.
There are three steps to this exercise:
A card comes off the Deck and the sound for that card is heard. This is the Displayed card, and it lands to the left of the equal sign. The sound for that card is heard and should be remembered.

All the cards rotate. The Displayed Card will go into the closest Holding Space, and any of the cards in the Holding Spaces will rotate around counter-clockwise. The card in the last Holding Space (if there is one) will go to Comparison Space.

You decide if the Displayed Card and the Comparison Space card are the same or different. You will have to remember what the card was so that you can compare it to the active card. If they match, press the left arrow, if not, press the right arrow.
There are a few ways the exercise becomes more difficult as you progress:
The number of cards to remember in the sequence increases
The information to remember for each card changes (suit, number, both)
The card information is presented faster
Tip!: The arrow keys on your keyboard have been enabled for Auditory Ace. To improve reaction time, leaving fingers on the left and right arrow keys and then pressing to make a selection is usually quicker and more accurate than moving the mouse cursor back and forth to answer yes/no within the time limit. Similarly, on a touchscreen, you can hover fingers over the response buttons and tap quickly.
For more information about Auditory Ace, click here.

You can watch the tutorial video here: https://vimeo.com/211343369