Results from the UFOV assessment are available as soon as a participant has completed the program. Results will be shown on a final screen at the end of the assessment, and the data is available for download via the UFOV Group Portal.
End of the assessment
When all three parts of the assessment have been completed there is an option to Print Results.

Clicking on the Print Results button shows the current results with an option to print. You won't be able to access this option again once the user exits the program.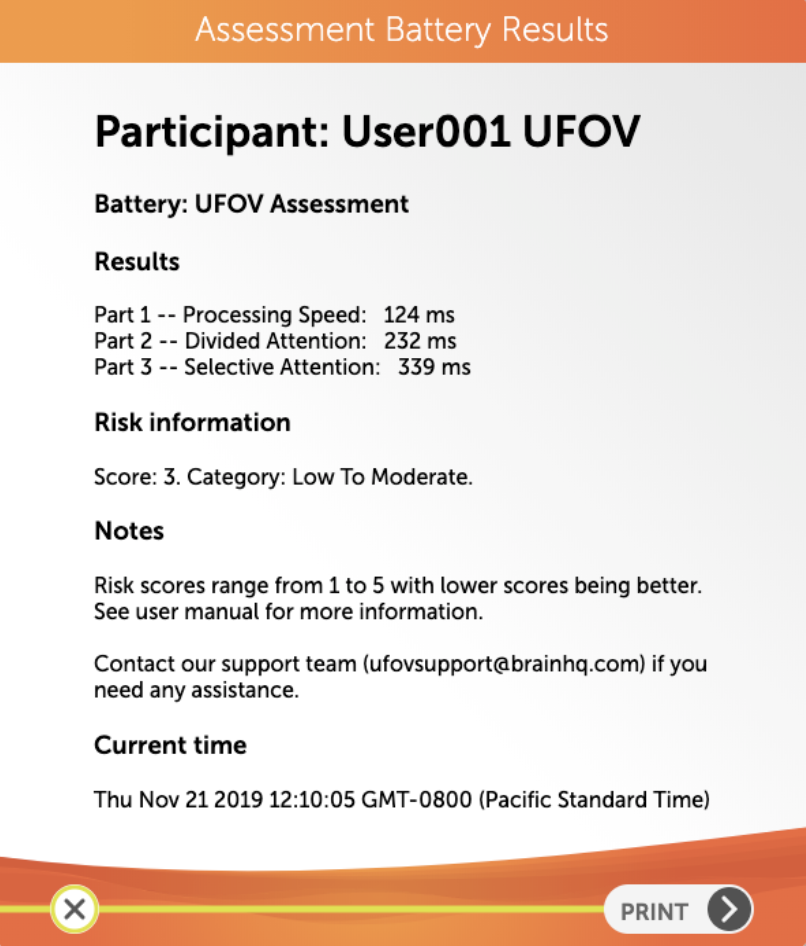 Downloading the data
All results are stored in the Group Portal. You can obtain results for any user as follows:
Log in to the Group Portal and go to your group

Click on Show advanced features


Gear Wheel icons will appear next to each of the participant names. Click the Gear Wheel beside the user you are interested in.
Click the Assessments download icon to download a CSV file containing the user's results.

Understanding the results
Once the CSV has been downloaded, it should be opened in Microsoft Excel or a comparable program. you will see information similar to this:

Timestamp: the number here is an epoch time stamp. This number can be converted to readable data using an epoch converter (such as https://www.epochconverter.com/)

Composite: this is the Risk Score. Risk scores range from 1-5, and lower scores are better.
Scores (Part 1, 2 and 3, shown respectively): the units are milliseconds